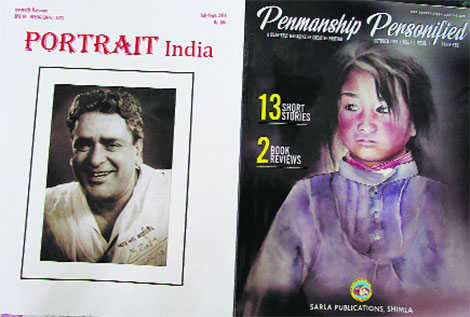 Shimla's Own Journals in English
by
Shriniwas Joshi
Volume 1, Issue 2, pp. 02-03

⊕
The Audit Bureau of Circulation in 2014 conducted a survey of the circulation of English newspapers in Himachal and gave figures — 26,834 for The Tribune; 5,857 for The Times of India and 3,081 for the Hindustan Times.
The readers of English newspapers in this hilly state are less than 40,000, while literacy percentage is quite high. To bring out English magazines from Shimla, where English readership is limited, is an onerous task.
Hats off to Shakti Singh Chandel and Usha Bande/ Anshuk Attri — editors of two magazines: 'Portrait India' and 'Penmanship Personified', respectively. Portrait India has pulled out four issues. The first one carried the main article on 'Devika Rani, the first lady on Indian Silver Screen'; the second one was on 'Light in My Darkness - the story of Helen Keller'; third on 'Subhash Chandra Bose — The Last Days' and the latest is on 'Prithvi Raj Kapoor and his Theatre World'. The cost of 'Portrait India' is Rs 100 and its get-up and articles are appreciable. Reginald Massey is an eminent author, poet, journalist and filmmaker, now based in Britain. He writes to the Editor of 'Portrait India': "I have read the latest issue and this is what I think: It is first class job in every way - fine articles, well researched and illustrated. It is a credit to you and those who assist you. You must be spending a lot of time editing and writing and supervising the production of the magazine."
The present issue contains foremost actors and those who propagated dramatics in India, viz. Prithvi Raj Kapoor, Norah Richards and Ebrahim Elkazi. The article on the Gaiety Theatre of Simla, written by Shakti Singh Chandel, mentions a few other dramatists of Shimla, who had performed on that stage. The article, however, misses the contribution of Hindustani Theatre to The Gaiety. The Gaiety management had banned the performance of Hindustani dramas on that stage from 1897 to 1928. When it was opened to the Hindustani Theatre, four prominent dramatic clubs —Indian, Edward, Premier and National — sprang up. Religious plays were in great demand then and people would crowd The Gaiety to see their gods and goddesses. Ganesha Janma, Ajamil Uddhar, Bhakt Sudama etc. were the hit plays of the time. There is one drawback and that is 'Portrait India' is a one-man show. There are a few other writers, too, but from the flow of style, one can point out the authentic writer. The research that Shakti does to write articles is worth appreciating. I wish that it continues and the number of readers getting complementary copies of the magazine, credit Shakti Singh.
ΞΞΞΞΞΞΞΞΞΞΞΞΞΞΞΞΞΞΞΞ
Sponsored Link(s)
Brought out by Sarla Publications, Shimla, 'Penmanship Personified' is rather too long a name for a magazine. It does not fit easily on the tongue. Its first issue was out in October 2018. It is edited by Usha Bande, but I had also given the name of Anshuk Attri in the beginning.
Usha met me and told that most of the work was done by Anshuk. She in her editorial writes: "Here is Penmanship Personified, a magazine devoted to fiction or to put it more succinctly, to short story and here are young men and women, who have dreams to enter the world of story-telling." There are several magazines in India, which harp on story-telling, but most of these are e-magazines. The Little Magazine is South Asia's only professionally produced independent print magazine devoted to essays, fiction, poetry, art and criticism. 'Penmanship Personified' is devoted to short stories and what is good about it is that stories are really less worded. The first issue has an article on story by Anita Sharma and the rest are stories, numbering 13, drawn from different parts of India.
The story that impressed me the most is a fantasy 'The Knight of Endornia' written by Vidhi Bhanushalli, a student of eighth grade in Mumbai. She is a big Harry Potter fan and loves reading fiction and listening to music. She dreams of becoming an author. She has the grains of an author and if her pen does not rust (may rest occasionally); she would bring her dream to fruition. There is another story from a child Samiya Rahman, only 12-year-old from West Bengal. I feel 'Penmanship Personified' has done a good job by providing a platform to the fiction-writing schoolchildren to share their skill with the grown-ups in the same platform. Keep it up.
Tailpiece
There was a time when 'The Saturday Evening Post' and 'Collier's' both had three stories in each issue. Reader's Digest also carries stories. But now, read when must; watch television whenever.
⊕