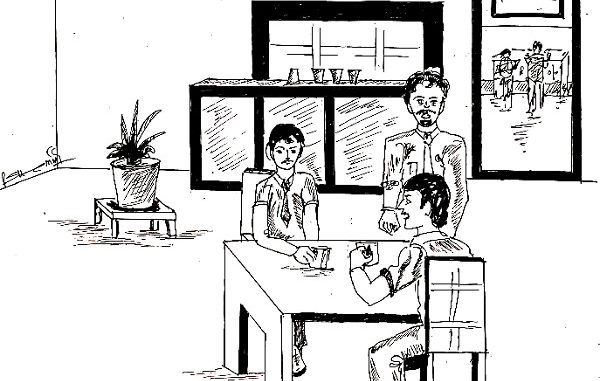 Revenge
by
Karan
Volume 1, Issue 3
I'm not at war with Kriti. I don't intend to take revenge either. I'm just asking for an opportunity where we both can be rated on the same parameters, regardless of the delta we have in experience.⊕
Once upon a time, at Global Consultancy, there used to work a resource by the name of Kabir. Honest and diligent he was, in addition to being a bit short-tempered at times - courtesy his young blood. This story is all about an episode in his career, which happened partly because of the hierarchy drama and partly because of his and Kriti's (Kabir's senior colleague) rash behaviour.
⊕⊕⊕
Scene 1 – Kabir's Workstation
As a part of the planning team in the ACS project, Kabir used to get his deliverables reviewed directly by the Subject Matter Experts (SMEs) – some of whom were the big shots of the project. To add to that, he used to review the test scripts created by the testing resources in the team. Kabir was the youngest and the juniormost resource in the project; all the testers were seniors to him by two/three levels.
So, the real drama starts when he gives some suggestions rather than the review comments to Kriti over an email, respecting the fact that she is his senior. But the reverse happens. Kriti overreacts and retaliates quite harshly.
Below are the extracts of the emails exchanged:
Kriti: What the hell is this? How can you put up suggestions to your senior? See, I've been in this organisation for almost seven years now, and even my seniors don't communicate with me like this. This is not the way you should write a mail to your senior. Never again drop an offensive mail like this to your seniors, not to me at least. Moreover, what is your understanding about this? Come to my desk. I'll teach you how to review the deliverables, and also how to be a good professional.
Kabir: First of all, I wrote nothing which can be called offensive. I just suggested that since you are a new entrant to this particular module, and the majority of the docs have already been created by your colleague, Rohan, it would be good if you can have your deliverables in sync with his, and not the other way around. That's just a suggestion and not an instruction. And I don't intend to learn anything from you. I know whom to look up to learn and grow in this organisation.
Kriti: Okay, I'll talk to your supervisor, and career counsellor as well.
Kabir: No issues. Do what you want to. You can even talk to my HR.
Conversation ends.
⊕⊕⊕
ΞΞΞΞΞΞΞΞΞΞΞΞΞΞΞΞΞΞΞΞ
Sponsored Link(s)
Scene 2 - Mr. Mathur's Cabin
Two days later, Kabir meets his manager, Mr. Mathur, in his cabin.
Kabir: Good evening, Sir. I've something very urgent to discuss with you. Can I take 5-10 minutes of your time?
Mr. Mathur: Sure. Go ahead.
Kabir narrates all that had happened two days back, and also explains how badly, for all the wrong reasons, he was insulted by Kriti.
Kabir: Sir, please give me one chance where you can judge both of us on the same parameter. I just want to prove myself to be a better and more productive resource than her.
Mr. Mathur: No, Kabir. I don't think you should go too deep into such incidents. I understand that there's a senior-junior kind of hierarchy maintained here, but no matter where you go, you'll have to face the same situation. The hierarchy is maintained in all organisations, across the globe. So, I would suggest you spit your anger. I'll talk to her personally and make sure you guys reach a ceasefire.
Kabir: I'm not at war with Kriti. I don't intend to take revenge either. I'm just asking for an opportunity where we both can be rated on the same parameters, regardless of the delta we have in experience.
Mr. Mathur: Kabir, you are a good resource and everyone knows that. You don't need to be given a separate chance to outperform her or anyone for that matter.
Kabir (in a depressed voice): Okay, Sir. No issues. Thanks for your time.
Kabir leaves the cabin.
⊕⊕⊕
Scene 3 – Mr. Mathur's Residence
The scene starts with Mr. Mathur discussing the Kabir-Kriti matter with his wife.
Mr. Mathur: I don't think Kabir should take this issue that seriously.
Mrs. Mathur: I think he should.
Mr. Mathur: Why? See, Kriti is his senior. She might be wrong, but there's no point in challenging her for that. I'll ensure they agree on a truce, in the interests of the project and even company to an extent.
Mrs. Mathur: So what if she's senior? Tell me one thing, what will be your reaction if you were in the same situation which Kabir is in now?
Mr. Mathur: I know this is bad. But peace is the only solution to any war. Just because Kriti is in the wrong, doesn't mean that Kabir should retaliate and err the same way.
Mrs. Mathur: Who's the more productive resource of the two?
Mr. Mathur: Now, what's this?
Mrs. Mathur: Kabir?
Mr. Mathur: Yeah. Kabir. But that doesn't give him the license to fight with his senior.
Mrs. Mathur : Don't you think that he deserves a chance to prove himself to be a better resource for all the good work that he has done for your project? You're a manager. Think about it.
Mr. Mathur: You should have been Kabir's manager, I think.
Mrs. Mathur: No doubt about it.
Conversation ends.
⊕⊕⊕
ΞΞΞΞΞΞΞΞΞΞΞΞΞΞΞΞΞΞΞΞ
Sponsored Link(s)
Scene 4 - Mr. Mathur's cabin
Mr. Mathur receives an email from Pinnacle Services, stating that they are offering seven free vouchers to Global Consultancy for certification in Retail Cost Management (RCM). He had the liberty to nominate any seven from his team of almost 70.
Initially, he thought that he would nominate all the senior resources for this certification. But the past few conversations he had with Kabir and his wife, made him include both Kriti and Kabir in the list.
Upon receiving the communication, Kabir thanked Mr. Mathur, his gratitude evident. Little did he know then that Kriti was an RCM expert.
The exam was to happen one month later; Kabir started preparation from day one itself.
⊕⊕⊕
Scene 5 - Office Cafeteria
Kabir is seated along with his friends and peers.
Rohit: Kabir, I heard that Mathur Sir has nominated you for some certification.
Aziz: Yeah, even I did. I guess, its RCM.
Kabir: Yeah.
Rohit: But are you even acquainted with RCM?
Kabir: So what if am not?
The anger continues...
Kabir adds: So what... In fact, I had asked Mathur Sir for this. I just want to outperform Kriti. What the hell does she think of herself? Just because she's my senior doesn't mean that she can say anything to me. And this is not just a certification. This is my battle for glory. Let me just win this battle, and then I'll spit on her face, in front of everyone. That's perhaps the only way to teach her a lesson...
He throws a glass, and walks out in anger, leaving Rohit and Aziz agaped to see that shade of him.
⊕⊕⊕
Scene 6 - Pinnacle Services University
Almost a month of rigorous preparation, and Kabir was all set for the paper.
All the seven examinees were to appear for the test at the same centre, Pinnacle Services University.
Kabir was determined to go to any extent to win his personal battle with Kriti. For the sake of his sanity, he even carried some chits to the test centre, hiding them under the folded cuffs of his shirt. Well, as they say, everything is fair in love and war!
But to everyone's surprise, the paper was beyond everyone's level of experience and understanding. In response to such a tough paper, four of the seven examinees left the test within half an hour.
Only three resources were left — Kriti, Samar, and Kabir. All the three fought hard with the paper, and stayed on till the last second of the time allotted to them.
The chits didn't work at all, and Kabir had to think beyond his understanding to crack the paper.
Though it was an online test, the results did not appear immediately. Being a beta test, it was seven days before the results were revealed to everyone.
⊕⊕⊕
ΞΞΞΞΞΞΞΞΞΞΞΞΞΞΞΞΞΞΞΞ
Sponsored Link(s)
Scene 7 - Office Cafeteria
As usual, Kabir was having his evening tea along with Rohit and Aziz, in the office cafeteria.
Rohit: So, Kabir, how much do you expect in the test?
Aziz: Do you still think that you'll outperform Kriti?
Before Kabir could answer them, his mobile phone rings:
Kabir: Hello?
Mr. Mathur: Kabir...
Kabir: Yes, Sir.
Mr. Mathur: Congrats. You've won. I'm proud of you. Not only Kriti, you've outperformed everyone. Come to my cabin. I'll let you know who scored how much.
Kabir: Sure, Sir. I'll be there in the next five minutes…
Kabir informs his friends and then...
Rohit: Come, we'll party.
Aziz: Man, this is your day. Now, what are your plans? What all are you going to say to Kriti? God bless Kriti!
Kabir: I'll get back to you guys in some time. Until then treat this tea as the starter of the party.
Victor departs with a smile…
⊕⊕⊕
So, no more revenge, Sir. Though revenge sounds strong, it makes one all the more weak.
Scene 8 - Kabir's Workstation
Kabir at his desk, drops a mail to Mr. Mathur:
Mathur Sir,
First of all, thanks for nominating me for this certification!
Though I've got the highest today, I don't think that I've outperformed anyone. Getting the highest doesn't necessarily mean that I'm the best.
I know that I had this feeling of revenge before the test, but I've to admit that I was not honest that day. For the first time in my life I carried chits. Though they finally proved to be of no use to me in tackling the paper, I consider that to be a weak activity, and a feeling of revenge always makes one weak.
On the other hand, Kriti was honest, and even if she got less than me, I believe that she, being an RCM expert, has a deeper in and out knowledge; and I consider myself just lucky and not at all superior to have secured more marks than her.
Today, I think that I should not have retaliated then. Instead of complaining to you, I should have tried to understand her perspective on my mail, which though I didn't intend to, had offended her in some way or the other. And today, I apologise for that.
After all, she is my senior, and she must have done something good to be at that level, and sustain in this organisation for seven long years.
So, no more revenge, Sir. Though revenge sounds strong, it makes one all the more weak. That's the most negative attribute of mankind and one should never possess or showcase such feelings.
Having said that, I would like to assure you, and myself as well, that I'm here just to work and not to fight with anyone.
Thanks once again, Sir!
Regards,
Kabir
Post sending the mail, Kabir switches off his mobile and leaves for the day.
⊕
ΞΞΞΞΞΞΞΞΞΞΞΞΞΞΞΞΞΞΞΞ
Sponsored Link(s)
A software engineering professional, Karan carries with him a good mix of published and unpublished works. He likes writing poetry, short stories, articles, write-ups, spoofs, advertisements, novels, and slogans. One of his short-stories, 'Tia and Pia', was published in the first issue of Fiction Quest (formerly, Penmanship Personified).
Email: [email protected].
Tel: +91-7028050693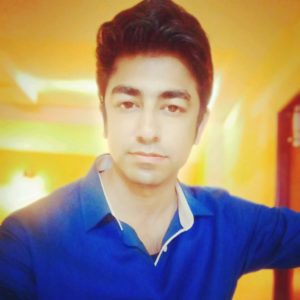 ΞΞΞΞΞΞΞΞΞΞΞΞΞΞΞΞΞΞΞΞ
Sponsored Link(s)