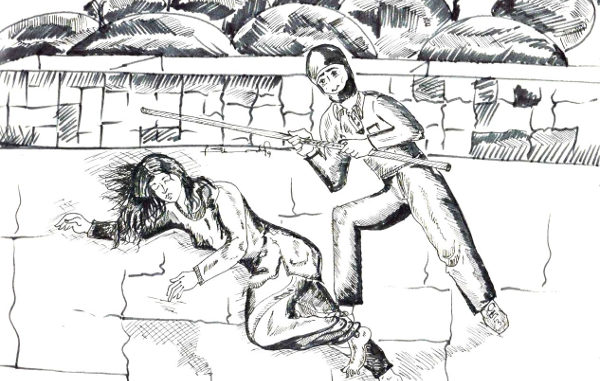 A Broken Friendship
by
Priti Saha
Volume 1, Issue 2, pp. 29-32
At the time, Raj was a young man of around twenty five. His tall, lithe body was complemented by an equally handsome face.
⊕
It was the 23rd day of November, 2017 and there was darkness in my heart. I was feeling the breeze that had wafted into my room, staring at the bleak night sky. My usually brightly lit room was engulfed in darkness. It seemed as if a shadow of my past was hovering over every piece of concrete I could see. The only audible noise was that of flipping of the switch of the table lamp. My mind was filled with innumerable thoughts and memories. Despite fighting against these thoughts with all my might, I succumbed to them— tears rolled down my eyes, signifying defeat. I heard someone crying; maybe far away, but that pain somehow reached me. The story, which had ended on 23rd November, 2007, continued to execute itself like an infinite loop in my brain.
⊕⊕⊕
Raj and I were watching a beautiful sunrise. The clouds had parted to allow the tender sun to peep, spreading its light with equal flamboyance as it had done the previous day and had been doing since time immemorial. Every sunrise with its ray of light illuminates hundreds of lives and instils hope and courage in every living being. It was for this very reason that Raj loved watching the sunrise.
At the time, Raj was a young man of around twenty five. His tall, lithe body was complemented by an equally handsome face. He took great care to put on clothes that suited his personality. His eyes had a spark within them and he was charming enough to attract any individual on this planet.
Raj and I had known each other since the eleventh standard, when I joined his school and he was my classmate. We had been best friends ever since. After pursuing our academic degrees, we were searching for jobs. At that point of time, I could see and experience the lack of job opportunities, and the rampant unemployment, just as we had read in our Economics books.
He was going through the same phase of disappointment and dissatisfaction, and was tired.
Raj had never been social. A number of people liked him, some for his appearance, some for his character and behaviour, but he never tried to maintain social relations with any of them. He seemed to be happy and content with having just a few people in his life; but after a while of fruitless job searching, he fell into depression, and became even more secluded. His pitiable condition drew sympathy from everyone around him.
In the meantime, with God's grace, a job opportunity came my way from a reputed company. My qualifications helped me obtain a good position too. I developed a good bond with my colleagues. However, Raj's miserable condition prevented me from concentrating on my work. His deep sunken eyes, the gloominess surrounding his persona, and face that seemed to have forgotten to smile, kept floating in front of my eyes.
I frantically searched for any job vacancy available in my office to offer to him. I had to find something that suited his qualifications and needs. Leaving no stone unturned, I went through every bit of information about the company and its branches across India. During the search, I realised that his condition would not allow him to go somewhere else and work – the job had to be local.
After a few days, in a fortunate turn of events, the sales manager of our office decided to join some other firm. "That's what I wanted. Thank you, God," I said under my breath. I was in a state of ecstasy.
The very next day, I went to Raj's house. He was sitting on a chair with his hands folded.
I told him about the vacancy at the office, and asked him to join. The designation was reputable and the pay good. He seemed to be relieved. "Thank you, Anandita," he uttered. The news seemed to have reduced a considerable part of his depression.
In two days he joined duty. I would never forget how, on his first day, he had raised his eyebrow in a gesture to ask me about his looks. I smiled to signal that he looked perfect in his blue shirt, long black tie and neat hairstyle. Soon after, he was back to his original charming and smiling form. He seemed to be content and happy.
Sometimes, I wish I had not got him that job.
⊕⊕⊕
ΞΞΞΞΞΞΞΞΞΞΞΞΞΞΞΞΞΞΞΞ
Sponsored Link(s)
To my surprise, Raj made a lot of friends in the office. Everyone liked him. He was punctual and knew how to deal with customers, and in a very short period of time, the company's profits increased, and so he developed a good relation with our boss, Ms Anamika. She was a nice and high-spirited lady, with a beautiful face.
With Raj back to normal, our friendship became even stronger. We would leave the office in the evening together, and shared every bit of our life with each other. Nearly everyone in our office understood that Raj and I were very good friends; some even believed us to be a couple. "We are friends forever," we would tell everyone.
Even the prospect of thinking about a life without our friendship terrified me.
Happy moments are short-lived, though.
As time passed, Ms Anamika developed feelings for Raj. She granted him a promotion and started spending a lot of time with him.
Raj, being a basically shy person, never talked to her of much else other than official business.
I remember, once he told me, banging his hand on the table, "Ms Anamika irks me. Why can't she simply do her job and let me do mine?"
I simply laughed and told him to bear with her, since she was our boss and the only rule that prevails in the corporate world is that 'The boss is always right'.
Slowly, Ms Anamika realised that Raj and I were very close, but she mistook it as a love relationship. She started allotting us jobs so that we could not return home together, nor talk to each other much.
By God's grace, these things did not affect our friendship. We were 'Best Friends Forever' and friendship is no less than a mother, who makes her kids strong and instils in them courage to fight the world.
Everything became normal. Ms Anamika must have realised her mistake, because she stopped trying to break our friendship, and became our friend.
Our trio grew closer. It seemed as if I was discovering some new dimension of friendship!
⊕⊕⊕
On 14th May, 2007, an office picnic was arranged.
The very mention of the word 'picnic' filled the otherwise overworked staff with enthusiasm and energy. Discussions about what dress to wear and the food to expect based on the previous year's experience, filled the air.
I could see Raj's excitement clearly.
"He has always been enthusiastic about these things," I said to Anamika.
She told me, "It will be a memorable day."
I remember sensing something eerie in her tone, but brushed aside the thoughts.
⊕⊕⊕
ΞΞΞΞΞΞΞΞΞΞΞΞΞΞΞΞΞΞΞΞ
Sponsored Link(s)
The picnic spot was two or three hours away from our office. A bus was arranged for the journey. In the bus, Anamika, Raj, and I sat side by side and enjoyed the entire trip.
By now I had forgotten almost everything Anamika had done to break our friendship.
We reached the picnic spot. It was an extremely beautiful place, a heaven for nature lovers—absolutely ethereal. There was an artificial pond, a swimming pool, and a beautiful mud house with Minakari art paintings. There was a huge field with a tennis court in a corner. The narrow paved pathways in the field had shrubs, with pink, blue, and yellow flowers on them. The greenery touched my heart.
All of us were playing certain games such as pass the ball, truth and dare, and the like. I looked around but was unable to find Anamika. I roamed around in search of her, enjoying the beauty of nature along the way.
I took in the sights around me. A flower with some drops of water on it, the fresh leaves welcoming everyone to appreciate their beauty. Nature sure did have the power to soothe the most parched heart on this holy planet. "You're searching for Anamika," I reminded myself. .
There was an enormous and beautiful tree near the boundary of the field. It looked rather inviting and I found myself drawn to it. As I walked around it briskly, I spotted Anamika, behind a thicket a few yards away, talking to someone.
"I had told you, I want nothing else. Just kill her, go kill her, kill Anandita," I heard her say. These words hit me like a thunderbolt. It was not the fact that I could lose my life, but my friend's conspiracy which impacted me the most. My fingers shook. I could not see the person she was talking to.
I ran.
Feeling numb, I decided to leave my job, but then quickly realised that I would not find anything that easily. I had no option left. I was clueless and pathless.
I made up my mind to confide in Raj, the only ray of hope I could see. Trembling with fear and uncertainty, I told him everything, in the best possible way. Raj said that I must have been mistaken and had overheard Anamika saying something else and interpreted it the wrong way. I just listened, unable to utter another word. I knew Raj would never accept my story; I had no proof. Silence prevailed.
I began avoiding any meetings with Anamika alone and never went outside unaccompanied for almost three months. It was almost like a house arrest for me. Those three months had been the worst of my entire life.
Slowly, I started gaining courage. Raj deserved credit for helping me overcome my fears. He convinced me that my anxiety about Anamika was ridiculous.
On 23rd November, 2007, Anamika asked me to attend a meeting at some place, about two hours away from our office. I looked at her. She had an eyebrow raised, disturbing the position of her bindi. I accepted her order...I wish I hadn't.
I had to stop several times to ask for directions to the place.
"There is no office here, Madam," the locals told me, when I reached the address. I was shocked, surprised, and terrified. I thought I had the address wrong.
The weather was stormy and it was already getting dark in the mid-afternoon. Maybe this was a hint.
I was walking around, hoping to find that office when, suddenly, something hit my head hard! I fell down but not before I saw a person in black, with a monkey cap covering his head and face, holding a long, thick, piece of wood in his hand. I gathered my courage, and recollected the words Raj always said, "No one can defeat you, Anandita, you are a warrior."
I got up and tried to run away, while dialling the phone number of the police, but fumbled and fell, hurting my knees. That masculine body came up to me and said, "Sorry," and was about to render another blow to my head.
I decided, "If I have to die, I will die fighting, not succumb like a defenceless person."
I decided, "If I have to die, I will die fighting, not succumb like a defenceless person."
With all my might I tried to ward off my adversary, but he was way too strong for me. Somehow I managed to remove his monkey cap, only to see Raj!
I lost my courage to fight and collapsed. I heard a car coming to halt nearby and saw Anamika emerge out of it. The situation had left me too numb to express or feel anything. The physical pain was not bothering me anymore, but the pain inflicted on my heart rendered me immobile. Anamika was guffawing out hysterically, but Raj's silence pierced my ears. Anamika's bright dress was not disturbing, but Raj's black dress hurt my eyes.
Stopping her cruel laughter, Anamika held Raj's hand and took a step forward in my direction. Raj had his head hung low.
"At the picnic, I was talking to Raj. I had been planning your murder since the time I became your friend," she said. "I could not afford losing a battle where Raj was the prize, could I? I had given Raj two options — you or me and my wealth. He chose me over you! Yes he did. For these three months, everything was fine because we wanted to win your confidence and then execute our plan in a remote area such as this," she laughed.
I shouted out asking her to stop. I asked Raj if he considered money more important than friendship. I recalled certain instances when we had promised to never abandon each other or play with each other's emotions. I asked him the reason for everything he did. Anamika was silent. I looked at Raj and said, "Speak up Raj, your Anu is asking you to speak up. Please, for the last time." He did. He said that he required money and Anamika could give him both money and love. Hence, he betrayed our friendship to secure his life.
Anamika took the wood from his shaking hand, and hit my head hard.
My memories are fuzzy, but I remember a woman shrieking. "Call the police," someone said. "Don't let these two go."
The next thing I remember is that I was standing, looking at the police taking Raj and Anamika away. I felt happy, but only for a small moment, because that is when I saw the police loading something into an ambulance – a body, with blood gushing out of its head.
Slowly it sunk in—That was my body! My corpse!
⊕⊕⊕
The story, which ended on 23rd November, 2007 was my life story. Now Raj and Anamika are behind bars, as my parents had lodged a case against them.
But I will be here, waiting, until they get punished for breaking someone's heart, and for spoiling the purest and most delicate of relationships — friendship.
⊕
Priti Saha hails from the city of joy, Kolkata. She started writing at the age of eleven. She is currently studying in twelfth grade and she aspires to become a successful entrepreneur. She has participated and won medals in English and Hindi language Olympiads.