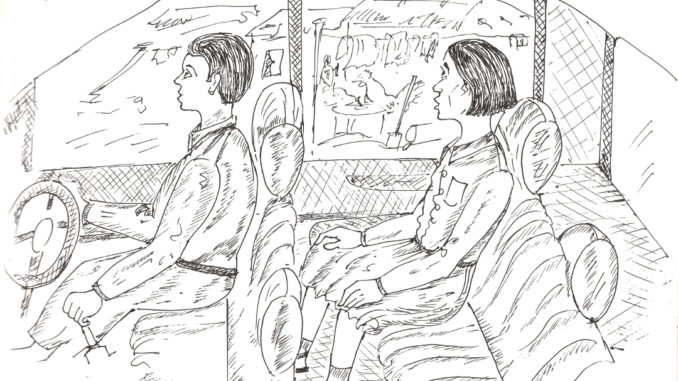 Turning her head towards him, she smiled. "You asked, I didn't reply."
⊕
"Memsaab, the car is at the door," said the driver. Maya got ready to leave her cabin, and took one last glance at the iMac to see if it had shut down. She was the CEO of a top networking company, the brain as well as the spine of the organisation. Clad in a figure-hugging knee length dark blue business skirt; a beige round neck; and a full-sleeved formal shirt, bought at Marks & Spencer, she felt her attire was perfect for the formal meeting she had attended that morning. The beige-coloured formal shoes completed the entire suave look
She took a look at herself in the elevator mirror and saw a wheatish, dark-eyed oval face staring at her; the layer-cut hair sat perfectly at her chin, giving a carefree look.
"Memsaab, shall we leave?" asked the driver.
"Yes, Gopal," Maya replied.
⊕⊕⊕
ΞΞΞΞΞΞΞΞΞΞΞΞΞΞΞΞΞΞΞΞ
Sponsored Link(s)
"Hey! Maya!"
It was Sunil, her co-worker, who was vying for the position of managing director. He had the characteristic handsome face, and the chauvinistic air to give him the 'don't mess with me' look.
"So, you're leaving? I asked you out yesterday."
Turning her head towards him, she smiled. "You asked, I didn't reply."
Sunil was baffled! No one had the cheek to deny him; no one had, in fact, in a long time now — especially not a woman. A quick rush of blood flushed his cheeks.
"Yes… I mean, right. But Maya, you do understand? Don't you?"
All she did was smile again. 'Maya' the name and her bewitching smile —which could make any man go soft in the head — had worked its magic on Sunil.
"Maya.....don't I stand a chance?" Sunil was stranded for the third time in two months.
⊕⊕⊕
Maya opened the window of her Chevy Cruz to let in the smoke-filled, damp air; she took in a deep breath, as if she were inhaling pure oxygen, put her head back, and relaxed, oblivious to the buzz of the maniacal honking.
⊕⊕⊕
"Maya! My goodness! What have you done to your hair?" her Grandma screamed. Before she could retort, a tight slap resounded.
"Daadi! Don't you dare hit me again; it's my hair."
"Why did you cut it? To woo boys? Of course! What else could be expected?"
Maya was too stung for words to make way; she was sixteen and understood every syllable of the underlying unspoken words. She no longer fancied her new look, and she rushed to her room. She grabbed the knob of the closet, drew out the only picture of her mom, and spat at it!
The next day, she woke up earlier than usual to meet her extremely busy father. "He will like my haircut," she thought.
"Baba, look at me!"
"Sir, doesn't she look like a little diva?" said Baba's secretary.
"Ha – Um," her Baba replied.
"Say something nice, Baba," Maya pleaded, already sensing her father's withdrawal from her.
It had always been like this since her mom had left them five years ago for another man. Baba picked up the phone, "Rajan, regarding the tender...."
Maya dismissed herself.
Maya was not magical— she was a taboo, and Baba resented her as she was a liability to him now, a living reminder of a humiliating relationship. She was Daadi's punching bag, as her son couldn't rebuild his life by remarrying. Maya was the impediment. Maya was the butt of mockery, even with the servants. A new dimension was added to her identity with her fifteenth birthday— the boys had decided she was an easy catch!
⊕⊕⊕
"How easy it was when I was ignorant," she thought.
⊕⊕⊕
With a skip in her steps and a tune on her lips, she set out to college.....That was Maya!
"Hey gal, You look kewtttttt!" the gang complimented.
"Hey wow! You look mind-blowing," remarked Sanjay, a boy from a conservative family, but with a 'modern' outlook.
"Thanks," replied Maya, blushing.
"Say, why don't ya teach me this trig. prob? It's kinda eating my brains out, dude."
"Ohhhh....…," hooted the gang, and took the cue to leave them alone.
Maya was an outstanding student, both in academics as well as co-curricular activities. She felt a strong need to excel.
"Since when did you start doing homework Sanjay?" she asked.
"Oh, hell! So you know why I came, haan ?" Sanjay tousled his hair and gave an innocent grin.
Maya was not magical— she was a taboo, and Baba resented her as she was a liability to him now, a living reminder of a humiliating relationship.
ΞΞΞΞΞΞΞΞΞΞΞΞΞΞΞΞΞΞΞΞ
Sponsored Link(s)
The car screeched.
"What happened, Gopal?"
"Sorry memsaab, these cows...."
"It's already seven," Maya sighed, closing her eyes. "I hope we reach soon, Gopal. I'm too tired. I want to sleep, but this smell..."
"Close the window, Memsaab. I'll turn the AC on."
"No, leave it, after all, it's filthy everywhere; you can't turn that off by turning the AC on."
With that Maya drifted off to Mumbai...…
⊕⊕⊕
"Sanjay, how was your day today?"
"Dad called me. He's coming in a week."
"Wow! That's nice."
"Oh, cut it out! You know what's gonna happen."
"Sanjay, I don't know what you're..."
"Maya, stop being ridiculous! Snap out of it. You run away from reality all the time."
"Why do you want to keep me away from your family? What's stopping you?"
"You really want me to say it?" Sanjay snapped, shocking Maya. "Your mom left you and your dad, behaving like a slut; you had your share of flings in college; you eloped with me; and here we are. What kind of dignified family would accept your type as a bahu? "
Maya's world was shaken; the ground beneath her gave way.
"I thought you loved me, Sanjay."
"I always will, but telling my family is a No-No! Maya, I thought you were smart enough to take all this."
"Sanjay, do you remember that I am pregnant?"
"I gave you the solution..."
"And you want to go ahead with...... with thaaat?!"
⊕⊕⊕
"Memsaab, we're here."
"Tomorrow, same time in the morning."
Maya opened the door to her paradise.
"Woof – woof," greeted Tammy, wagging his tail.
"Mummy, you should see this circular. They're taking us to picnic for three days. I will go! I wanna go!" This was 'Diya', Maya's ten-year old daughter.
Maya lit up to Diya's voice, and soon they were lost in a string of chatter. Tammy too contributed, occasionally.
"Maya beta, dinner is ready," said Shanti, the live-in-maid.
⊕⊕⊕
"OK, Ma, Good night!" she heard Diya say.
Diya brought sunshine into Maya's life.
She smiled to herself and closed the door of her room, to see the cellphone light up. A message:
"Maya , your smile says it all. I'll be waiting in the Sheraton tomorrow (Sat) at 11.30 AM"
Here we go again........ Oh, Sunil!...... Maya closed her eyes.
Sunil waited in a striped blue and white t- shirt, blue faded jeans, and Nike shoes. His sun- burnt face, which mirrored maturity, love, and gentle firmness, looked more handsome with a pair of Ray–Ban on it.
Maya stood still, her heart racing as it used to, when she had a crush on Sanjay. No, it hammered even more., All she wanted to do was to get into his arms and experience the warmth in the soothing sunshine. This was a new beginning, there would be magic after all.......
"Ma! Ma!"
"Diya! What happened?"
"Ma, I'm scared. I can't sleep. I had a dream that I went to the trip and when I came back, you weren't here. Ma, I don't want to go. I don't want you to go anywhere," sobbed Diya.
"No, darling", said Maya as she took Diya into her arms, "Ma will always be here......."
Maya's eyes welled up with tears. She closed them once more, only to see Sunil fading away, as the light from Diya, the sunshine of her life, shone brightly.
⊕
ΞΞΞΞΞΞΞΞΞΞΞΞΞΞΞΞΞΞΞΞ
Sponsored Link(s)
Usha Srikanth is a lecturer of English at Presidency College, Bangalore. Meeting new people, reading books, travelling, and writing are a few things that interest her. Her stories and poems have appeared on womensweb.in. You can read her blog at ushasrikanthblog.wordpress.com, and write to her at [email protected].